BMW 8 – Spirit of Charity
October 14, 2020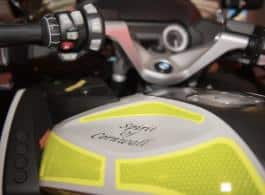 BMW 10 – Spirit of Cornwall
October 17, 2020
BMW 9 "Spirit of Freemasonary"
Back in June of 2017 CBB were fortunate enough to be nominated in The Masonic Charitable Foundation Awards, which were created by The United Grand Lodge of England to celebrate 300 years of Freemasonry.
To mark 300 years, 300 charities were chosen to receive a share of £3 million across the UK.

Our charity was one of six to be nominated by the Provincial Grand Lodge of Cornwall with local people voting to decide their level of award ranging from £4,000 to £25,000 On the 5th September 2017 it was announced by The Masonic Charitable Foundation Awards that the Cornwall Blood Bikes charity had been awarded the highest grant of £25,000.

With this money for the first time in the charities history we were able to purchase our very first brand new BMW 1200 RT(p) and two nearly brand new bikes.


"Spirit of Charity" BMW 8 was purchased as a practically new bike from our dear friends and colleagues at Freewheelers EVS Blood Bike Group.
On the 22nd June 2018 saw a very special day for Cornwall Blood Bikes for the official handover of our three BMW 1200 RT (p)s from the
Provincial Grand Lodge of Cornwall
at
Damerells Motorcycles
. Even the weather was on our side on that day as we celebrated with the public of Cornwall.
Mr Stephen Pearn, The Provincial Grand Master for the Province of Cornwall officially handed over all three bikes to our Chair, James Forder amongst a fantastic audience of Cornwall Blood Bike volunteers and the brethren from Cornwall.

Mr. Pearn named our fabulous trio:-
"Spirit of Cornwall" BMW 10
"Spirit of Charity" BMW 8
"Spirit of Freemasonry" BMW 9
All three bikes proudly show the Masonic Charitable Foundation Logo and The Provincial Grand Lodge of Cornwall Roundell.
It was a special day for all volunteers and a time to reflect on those volunteers who are no longer a part of the charity but have helped shape & develop what we are today.

On that day back in 2018 the triumphant trio of bikes had covered nearly 19,000 operational miles since being with us. This truly demonstrates the sheer magnitude and the true difference this magnificent donation has made to our charity and in turn the community of Cornwall that we are dedicated to serving.

None of this would have been possible without the #ProvincialGrandLodgeCornwall and the Masonic Charitable Foundation and of course YOU, the public of Cornwall for voting for us, and supporting us for every mile of our journey.