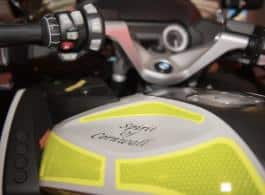 BMW 10 – Spirit of Cornwall
October 17, 2020
BMW 14 – One and All / Onen had Oll
October 17, 2020
BMW 13 "Oarsome Foursome"
It is so hard to believe that it was the Summer of 2017 when Ian and myself headed way to West to meet Mother and Daughter Mo O'Brian & Bird Watts to hear about a "sponsored row" they were planning to do for Cornwall Blood Bikes.
Little did we know that this sponsored row consisted in them taking part in the Talisker whisky Atlantic Challenge leaving La Gomera In November 2019 to arrive at some point at Nelsons Harbour in Antigua.

Mo O Brian, Bird Watts, Claire Allison and Linda Watts embarked on a gruelling training regime accompanied by never ending fundraising. CBB were beside them for their journey supporting them with our attendance at whatever event we could with our fleet bikes. To wave goodbye to them at their farewell party in November was very emotional, as we had spent so much time together.

They encountered many problems on the way not least Linda becoming incredibly sea sick on training, with nothing able to help and with a heavy heart she was no longer able to take on the challenge. Paul Thomas became a regular feature at their fundraising events, in fact we even thought he would make up the "4th" place when Linda was unable to go ahead!

There was reservations from some about what they were about to undertake, and what if this all went wrong.

The quote "What if I fall? Oh but what if you fly" comes to mind.

These were three ordinary women who completed the extraordinary. Mo, Bird and Linda went on to to complete the hardest sailing challenge in the world and in doing so became the fastest women trio to ever cross the Atlantic. Mo also took the title for the first profoundly deaf person to row the Atlantic, and they took a third title of being the first Mother and Daughter to complete this challenge.

They have been filtering money into our account since 2017, but we can now reveal that over that period of time to date they have paid over £20,000.00 into the CBB account.

We have supported and been by their side for every element of their journey from physical training and fundraising activities, and on the 30th January at 01:55 GMT we watched Mo, Bird and Claire row victoriously into Nelsons Harbour, Antigua making them record breakers, being the fastest ever women trio to cross the Atlantic, and Mo being the first ever profoundly deaf person to complete such a challenge.

As they rowed in for their finish and those iconic photographs were taken it was an immensely humbling moment for Cornwall Blood Bikes, for the Fundraising/Media team this has never ever been about monetary gain but the awareness this can give to not only our charity but Blood Bikes accross the Country is enormous and one that we will continue to work tirelessly to protect and nurture.

So how do we say thank you?

Well we buy a BMW 1250 RT and we name it "The Oarsome Foursome" as we tell everyone about their story.

This was all meant to be the plan, we worked with their PR Media to arrange a surprise handover at a welcome home party, but COVID-19 had other ideas. The bike was still in Germany, we were not able to meet as the country went into lockdown.

Behind the scenes John worked tirelessly to get the BMW to Ocean, and for Mill Signs to work their magic doing the livery. Because of our 24/7 operations the bike was needed to what we do best and go on duty.

Ian and Jayne did a Skype Chat with the ladies and revealed that we had a little bit of surprise. They were all astounded and very emotional that we had made such a gesture, and that we as a Charity hold them very dear tour hearts. The ladies quoted that they could not have asked for a better person in Paul Thomas to take this bike onto operational duty and for them that was so special.

The plan is when life returns to normal that we will finally have our postponed get together and these ladies will publicly name their bike.

May we wish BMW 13 always the safest of journeys, and what a tale we have to tell about it's name.